INCREASING DEMAND FOR SYSTEMS AND RELATED SERVICES
GDP development  and political factors
The waterproofing and construction market in general follows the development of the GDP. Strong GDP growth benefits the broad construction industry with more starts of construction projects and higher volumes, weaker periods mean greater focus on maintenance and renovations. In periods of lower activity, public funding for building and construction projects has been common to stimulate the economy. Higher uncertainty in the geopolitical situation can lead to a change in approach to public support and financing, but also to delays as well as changes in strategies.
Nordic Waterproofing is active in three segments of the construction market: waterproofing, prefabricated elements and green infrastructure. The segments can also be divided into traditional building materials and green building materials, where the traditional also are constantly evolving towards increased durability. In some regions the Group is moving towards a more comprehensive offering also including installation services.
Waterproofing – focus on system solutions for optimized construction
The waterproofing market is consolidated, and the market shares tend to remain stable over time. Local production is a prerequisite for bitumen based products in particular, as transport costs account for a significant part of the total costs (high weight in relation to the value of the product), and expected short delivery times, which presupposes that manufacturers have reliable and efficient logistics solutions.
The production processes in the industry is to a high degree automated, which reduces competition from low cost labour countries. The different waterproofing markets are also characterized by differences in building regulations and building traditions
The roofs dominate
The Group offers waterproofing solutions for different applications, dominated by roof solutions for houses with flat as well as pitched roofs. This market is developing in line with the general construction market, with lower variations in different economic conditions as a result of a larger element of renovation and maintenance assignments in installing waterproofing.
The Group's markets can also be divided according to type of application, such as residential and commercial properties, infrastructure (e.g., bridges), ponds and water reservoirs amongst others. It is estimated about 70 percent of the value of the total waterproofing market in the Nordic region can be attributed to commercial properties and infrastructure. Commercial and community properties have to a greater extent low-sloping roofs compared with residential properties. The Nordic market for new production has increased by about 20 percent over the past five years but is estimated to have a lower growth rate during the coming years.
Prefab – increasing construction costs on site drive the prefab market
The costs of construction on site are increasing, which is why time is a critical factor where the climate and season also pose a risk of delays. Construction with prefabricated elements is therefore an increasing trend. In addition, construction is increasing with prefabricated elements with wooden frames for larger buildings such as offices, factories and warehouses, retail, multi-storey buildings, and community buildings. The increase is driven by a growing demand for more sustainable materials as well as productivity and thus cost savings.
Experience shows that the total cost of a building with a prefabricated wooden frame is 7-10 percent less compared to traditional construction with concrete.
Building regulations and building design
The construction industry is characterized by the fact that the building regulations are national, which creates different product solutions and reference conditions.
Green infrastructure is significantly increasing
The market for green infrastructure is largely driven by demands from authorities for increased biodiversity in urban areas, but also by the insight of increased value in the form of a more pleasant and environmentally friendly environment for new development and renovation. This is reflected in the fact that the majority of construction projects of larger buildings have elements of green roofs and where the sedum roofs in particular are increasing.
Renovation creates stability
Renovation is less affected than new construction by the general economic climate. Renovation and new construction are estimated to account approximately for 50 percent each of the Nordic construction market. The Nordic renovation market did not decrease during the economic downturn in 2007–2009, while the new construction market decreased by 27 percent. Exposure to the renovation market strengthens thus the Group's operations.
The market for prefabricated elements has a greater economic dependence on new construction. In a recession, however, renovations are increasing. The distribution between renovation and new construction is 10 and 90 percent respectively of the sales value.
The renovation market is driven by:
Composition and age of the property holdings.
Renovation of buildings is usually cheaper than new construction. In addition, lack of maintenance can potentially lead to large costs due to e.g. water damage, which makes renovation decisions crucial.
The requirement for increased energy performance in existing buildings. Not least the large housing stock built during the 1960s and 1970s has a great need for better insulated roofs and facades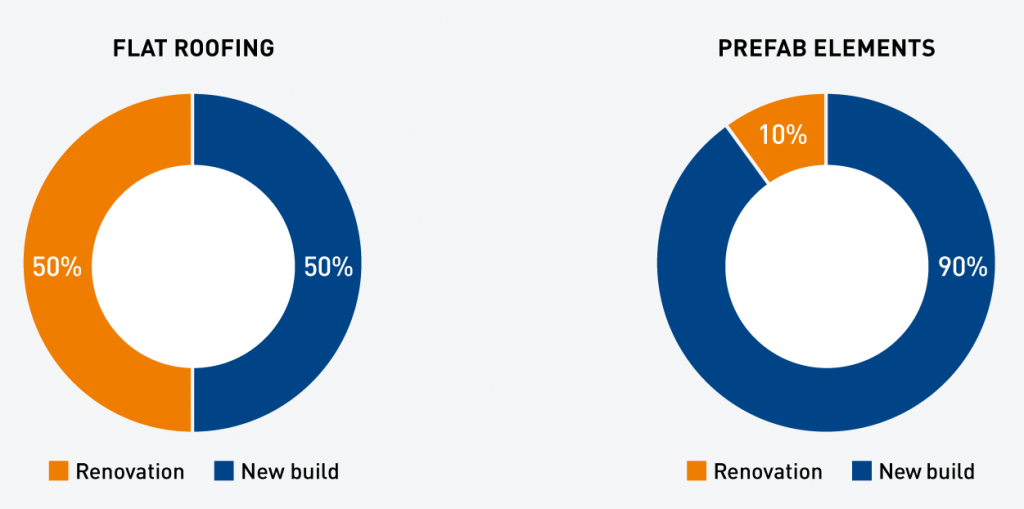 STRONG MARKET POSITION IN A COMPETITIVE MARKET
Nordic Waterproofing faces different competitors depending on the product area.
Waterproofing
In addition to Nordic Waterproofing, following major private manufacturers of waterproofing products are present on the Nordic market: Icopal, which is part of the BMI Group, in turn part of American Standard Industries, Finnish Katepal and Norwegian Protan and Isola. The limited number of local manufacturers in the Nordic market has a relatively fragmented customer base.
In the European market for EPDM products, Nordic Waterproofing's brand SealEco has competitors such as Firestone, Carlisle and Duraproof, of which Firestone and Carlisle are estimated to be the largest and second largest supplier with SealEco as the third largest.
Prefab
Within the prefab operations, it is mainly the construction companies' own operations with partially prefabricated or site-built frames and façade elements that are the alternative to finished elements / modules that are delivered on time to the construction site. There are few direct competitors to Taasinge Elements, RVT and Seikat in the Nordic market. In Denmark there is Roust Træ and in Norway the roof manufacturer Lett-Tak and within wall and larger house modules, there are manufacturers such as Optimera, Jatak and Støren Treindustri while in Finland, Lap Wall and Termater are major competitors.
Green infrastructure
Growers of plants for green infrastructure mainly act nationally as the plants are adapted for the same plant zone. Industrial cultivation takes place from for B2B deliveries and requires larger areas. Veg Tech is an industrial grower with a strong market position in Scandinavia; leading in Sweden where other players include Svenska naturtak, one of the top two in Norway where Seduma may be mentioned and one of the top three in Denmark where Nature Impact may be mentioned. The market is fragmented, including the smaller players such as nurseries that sell to private individuals.
Installation services
The market is fragmented in installation services, ranging from small contractors to construction companies.
STRENGTHS
The following factors are to the benefit of the Group:
Mature and consolidated industry
The waterproofing market is consolidated, and the market shares tend to remain stable over time. Local production is a prerequisite as transport costs account for a significant part of the total costs (high weight in relation to product value) and customers expect short delivery times, which presupposes the manufacturer having reliable and efficient logistics solutions.
The production processes are largely automated, which reduces competition from countries that can benefit from cheap labor. The different waterproofing markets are also characterized by national differences in building regulations and traditions.
Long-term trust is crucial
Customers are looking for proven and well-established products and materials from strong brands with a long tradition of quality and knowledge as long-term durability is crucial.
The Group's well-reputed brands, in combination with partnerships, training programs and technical services as well as highly motivated employees, have contributed to creating long-term customer relationships.
High quality product portfolio
A permanent waterproofing layer is the key to seal a building and the choice of material, its quality and installation can have far-reaching consequences. It is crucial for the life of the building, but accounts for a lesser part of the total construction cost. Construction companies hire qualified roof installers who have the necessary skills and understanding of the best product choices.
SEASONAL VARIATIONS
Nordic Waterproofing's operations are affected by seasonal variations, with January, February and December being the weakest months. In the financial year 2021, sales during these three months accounted for just under 19 per cent, while the other nine months accounted for 81 per cent, which is in line with the five-year average. The decline during the winter months is explained by cold and challenging weather conditions and its impact on the construction industry. In general, there will be some stockpiling during the winter months, which will lead to a reduction in stock during the summer months as a result of the increased activity in the market. If winter arrives early, it may result in the postponing of several planned projects, which in turn has a negative effect on the year's results. The same applies if the winter is long and the season starts in late spring.
For risks and sensitivity analysis, please see Note 33.