Marketing and sales take place primarily at national level. The customer groups vary depending mainly on the size of the projects.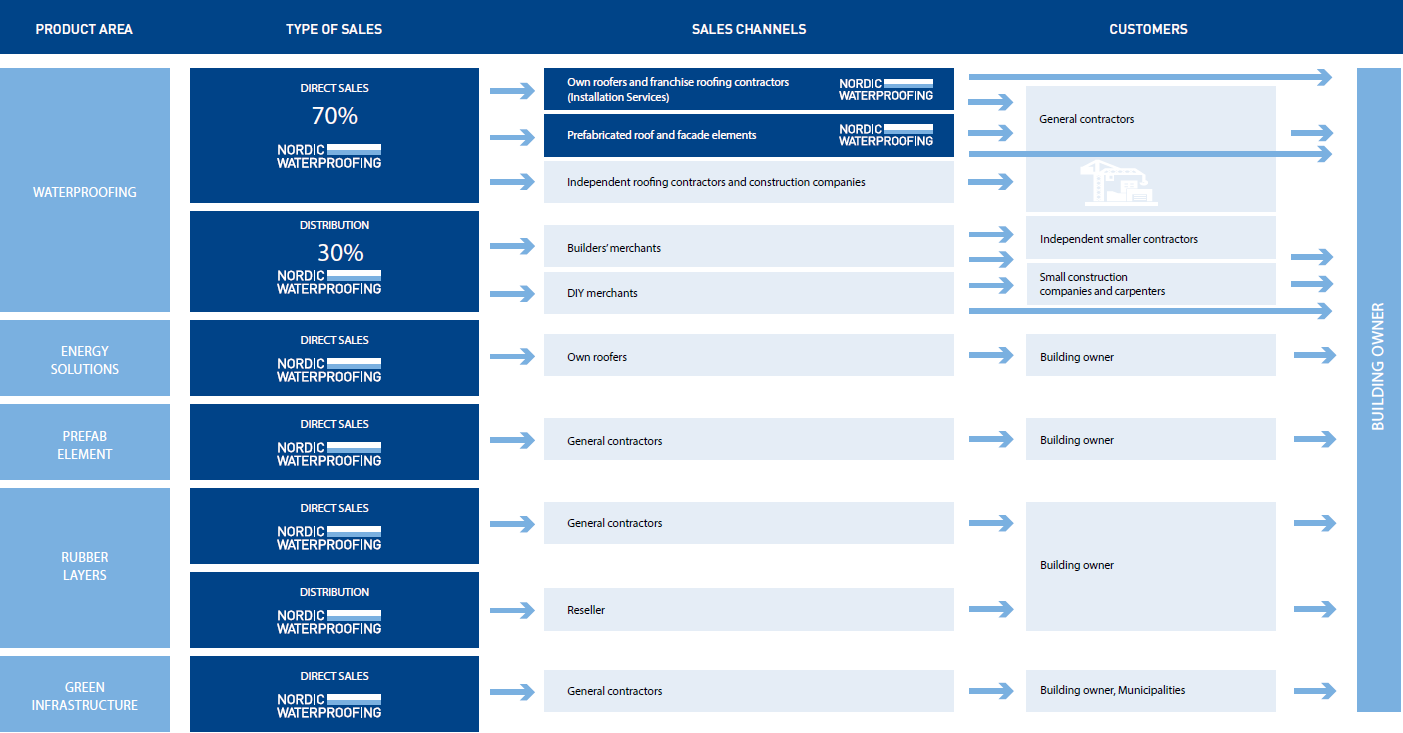 Direct sales to contractors
Since flat roofing waterproofing installation require special expertise, related materials are mainly sold to installation companies. This link to end-users accounts for approximately 70 percent of the Products & Solutions operating segment's sales. The installation market is fragmented and consists predominantly of small, local companies.
Sales via builders' merchants
The builders' merchants level of the distribution chain is relatively consolidated, consisting mainly of large building material chains with a regional or national presence and offering waterproofing products as a small part of a wide product range.
Approximately 30 percent of the Products & Solutions operating segment's sales of roofing products in the Nordic region are made through builders' merchants.
Construction company customers
Construction companies are either large general contractors with a global, national or regional presence or smaller contractor companies (builders and carpenters). Construction companies that operate at both the regional and global level include Sweden's JM, NCC, Skanska and Peab; Denmark's MT Højgaard, HusCompagniet and Hoffman; and Norway's Veidekke. With regard to flat roofing waterproofing products, these companies secure direct agreements with installation companies, delivering a complete package of roofing solutions, for example Nordic Waterproofing's Installation Services.
The Group's operations in prefabricated floor, wall and roof elements, also bring
new customer categories in the segment of medium-sized and large construction companies, major architectural firms and other procuring companies.
The Group's specialists in the fast-growing floor covering market have a customer base consisting mainly of medium and large construction and industrial companies, as well
as shipyards and their subcontractors.
Direct sales to end-users
End-users consist of property owners who use waterproofing products on their properties. This level of the distribution chain is fragmented and includes private real estate companies, such as Kungsleden, Castellum, Hufvudstaden and Carlsberg Ejendomme, but also Copenhagen Airport and government-owned real estate companies, such as Akademiska Hus; as well as private real estate companies.
Prefabricated elements
Prefab elements are currently sold and marketed mainly directly to medium and large construction companies in Denmark and Norway.
Marketing is largely aimed towards architects and building engineers through seminars and conferences. Nordic Waterproofings has the potential to expand the market to the other Nordic countries.
Green infrastructure
Green infrastructure, ie plant-based surfaces for roofs and facades as well as for green spaces in urban areas, has to a great extent the same sales channels as other waterproofing products. The client / specifier also consists of contracting authorities such as municipal administrations.