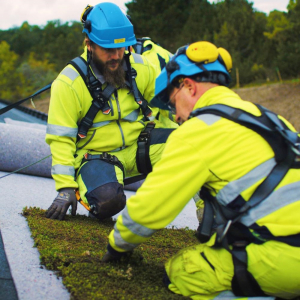 Employee safety is always the highest priority, and all subsidiaries have a work environment policy. Nordic Waterproofing's operations include production units, warehouses, and offices. The Finnish, Norwegian and Danish (via franchise) operations also include roofing services. The production unit in Finland is certified according to the work environment management system OHSAS 18001.
The efforts in preventing and reducing the incidents and accidents take place through analysis of the underlying causes. Each workplace has its specific risks why each subsidiary is responsible for managing health and safety work in a systematic way. This includes collecting information about and evaluating site-specific risks and reporting accidents to the Group.
Finland accounts for the largest number due to installations that are still the Group's most risky area. At the same time, serious accidents (bodily injuries, eg bone fractures) decreased to 3 (18). Newly acquired companies are integrated into the Group's systematic work, but also through education raise the awareness and knowledge of the new employees who have entered our operations when the pace of production and installation increases. All manufacturing companies within the Group use external occupational health care services to support their employees, including rehabilitation.
Newly acquired companies are integrated into our systematic efforts. Efforts are continued in increasing the awareness and knowledge among all employees who are contributing to our operations. All of the companies within the Group that have production sites have contracted external Occupational Health Care services to support their employees, including rehabilitation.
In 2021, the regions have continued to be affected by the ongoing Covid-19 pandemic. We have given priority to the well-being and health of our employees and other stakeholders and have taken the precautionary measures prescribed by the local authorities, at the least. Those who had the opportunity worked from home.