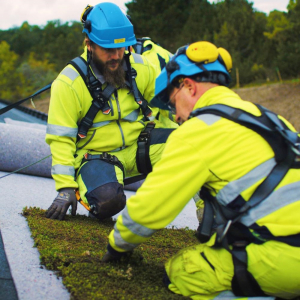 Nordic Waterproofing's operations include factories, warehouses, and offices. The Finnish operations also include roofing services. Employee safety is always the highest priority and all subsidiaries have a work environment policy. The production plant in Finland is certified in accordance with the OHSAS 18001 work environment management system.
Each workplace and environment have their own specific risks and, accordingly, each subsidiary is responsible for systematically managing health and safety efforts. This includes gathering information about and assessing site-specific risks and reporting accidents to the Group. The process of reducing the occurrence of incidents and accidents is achieved by analyzing the underlying causes. Each individual site shall report to the Group level, all occupational injuries and illnesses resulting in at least eight hours of absence caused by accidents, defined as Lost Work Cases (LWC).
In 2020, focused efforts continued to reduce accidents within the Group. The number of occupational injuries, LWC, which resulted in at least eight hours of absence, decreased by 20 percent to 52 (65), mainly attributable to reduced numbers accidents in Finland. Finland accounts for the largest the number due to installation operations that still is the Group's riskiest area. Serious accidents (bodily injuries, eg bone fractures) increased at the same time to 18 (6), of which 13 was attributable to Finland.
Efforts to prevent accidents are continuing in 2021. An important part of this will involve integrating newly acquired companies into our systematic efforts, but also, continue to raise awareness and knowledge among all employees who are contributing to our operations. All of the companies within the Group that have production sites have contracted external Occupational Health Care services to support their employees, such as in the case of rehabilitation.