WATERPROOFING FOR THE CONSERVATION OF BUILDINGS HAS FEW FOSSIL-FREE OPTIONS
Waterproofing for low-sloping roofs is by 85 percent covered by bitumen-based waterproofing in the Nordic region. Nordic Waterproofing also manufactures EPDM rubber membranes and offers sealing by PVC and TPO plastic. Together, these four materials account for 95 percent of all waterproofing for low-sloping roofs. There are currently no materials based on completely fossil-free alternatives that is on the same performance and cost level.
INPUTS
The most important inputs in Nordic Waterproofing's production are bitumen, polymers (rubber compounds and plastics), environmentally certified wood and plants.
Bitumen – a residual product …
Bitumen is a residual product that follows in the industrial refining of crude oil when producing different fuels. Bitumen production requires thus a lower energy consumption in the production itself, however, heat energy is required in the processing of waterproofing products.
… with a long-life cycle …
Today's bitumen-based waterproofing, blended with elastomers and polymer for increased flexibility, has a life cycle of up to 50 years, where design and installation also affects. When renovating the waterproofing, the old layer normally is kept, and a new layer is added.
… and which doesn't harm man and nature
As bitumen is a hydrocarbon not intended for combustion but for use in structural materials, no greenhouse gases are emitted. The remaining constituents of bitumen-based waterproofing (fillers, polymers, slates, sand, etc.) are either inert (not inclined to form chemical compounds) or have low propensity for chemical reaction. This means that they pose minimal danger to man or nature throughout their life cycle, provided that it isn't burnt. Bitumen is insoluble in water, non-biodegradable and therefore the ideal material for collecting and holding water (collection ponds, irrigation water, polluted water etc.). In order to reduce use of polyester in the liners, a large part consists of recycled polyester from PET bottles.
Reduced material utilization…
Product development is also focused on reducing the thickness of roofing felt (and thus the amount of bitumen) while maintaining function through better blending recipes. Digital aids are also essential in the design work of prefabricated elements and for control and quality monitoring in production.
… and increased proportion of sustainable materials

Sustainable materials are a growing part of Nordic Waterproofing's operations. Both green infrastructure and wood-based building elements have a positive environmental impact due to their CO2-binding properties. Wood as a building material is a natural raw material with a significantly lower emission level compared with other building materials.
Green infrastructure contributes to biodiversity while protecting the underlying waterproofing membranes, insulating the building better against extreme temperatures and absorbes some of the city's noise, dust and air pollution while improving both the micro and macro climates. Green roofs also act as barriers in heavy precipitation. Up to 50-80 percent of the precipitation can be absorbed, reducing or detaining the run-off of rainwater.
Growing plants for green infrastructure requires no major energy consumption. In addition, biochar is used as a nutrient in the crops. It has been added from Vegtech's bio-based boiler through so-called pyrolysis.
Reduced CO2 emissions are also possible in bitumen-based products. Nordic Waterproofing's Finnish brand Kerabit has developed Kerabit Nature. Its fossil bitumen has been partially replaced by bitumen extracted from tall oil, CTO. The positive CO2 uptake through the tall oil raw material makes Kerabit Nature CO2-neutral (bitumen already has low 0.2 kg CO2 equivalents / kg) Kerabit Nature is available as for both top and bottom layers.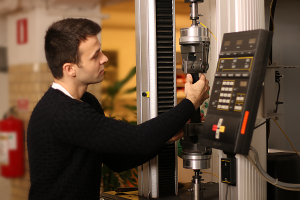 Development is also taking place for application of roofing felt without gas burners, which both reduces CO2 emissions and reduces the risk of fire.
Recycling
The Group also focuses on completely recycling all residual material and waste in order to reduce
material consumption and retain CO2.
The challenge is mainly fossil-based materials such as bitumen and EPDM rubber. Roofing felt is normally left on the roof when applying a new layer when renovating. EPDM rubber can only be reused as a filler material as it is vulcanized and cannot be melted. There
is currently no established method, why various recycling methods are developed and evaluated.
EPD DECLARATIONS
FOR SMARTER ENVIRONMENTAL CHOICES
Before a new construction takes place, a life cycle analysis (LCA) is assesed to get an overall picture of its environmental impact. The prerequisite for a correct LCA is that the constituent materials have an established EPD, (Environmental Product Declaration, an information system for factually describing the environmental properties of products and services in a life cycle perspective). Nordic Waterproofing has initiated EPDs which continuously will cover further products.