Since the IPO in 2016, theacquisition strategy has been strongly focused on sustainable building solutions, including wood based prefabricated elements (Taasinge Elementer, RVT, Ugilt, LV Elements, Seikat), green infrastructure (Vegtech, Urban Green) and solar panels (Playgreen).
The actual sustainability work takes primarily place on a national level by the subsidiaries that are closest to the market with a proactive offer for regional preferences. Policies such as environment, code of conduct and whistleblower policy have been developed at Group level.
The objectives are to ultimately achieve carbon neutrality in the day to day operations, and of being best in class in the industry in terms of sustainability.
The Group signed the UN Global Compact in 2012. A specific code of conduct for suppliers has been established based on the UN Global Compact.
Denmark is the first country to carry out a stakeholder dialogue for a materiality analysis. This will provide the basis for an even more goal-oriented sustainability work. Other main markets intend to follow suit.
THE GLOBAL SUSTAINABLE DEVELOPMENT GOALS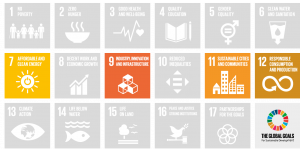 The UN's Global 17 Sustainable Development Goals in Agenda 2030 make a clear and useful framework for meeting the global challenges and have had a major impact on the society.
At the same time, the goals are an impetus to innovations and business opportunities in the area of sustainability. Private and public organizations have an important role to play and the business community is expected to contribute with responsible business, transparent reporting of their own goals and results, and the development of products and services that contribute to a sustainable development.
Nordic Waterproofing supports and contributes to several of the UN's sustainability goals.
The Group has chosen to give special priority to four of these goals where the business is judged to have the greatest opportunity to contribute:
7 Sustainable energy for all
– Increase the share of renewable energy in the world
9 Sustainable industry, innovation and infrastructure
– Build resilient infrastructure, promote inclusive and sustainable industrialization and promote innovation
11 Sustainable cities and communities
– Make cities and homes inclusive, safe, resilient, and sustainable
12 Sustainable consumption and production
– Sustainable management and use of natural resources
SIGNED THE UN GLOBAL COMPACT
The Group has a Code of Conduct based on the 10 principles of the UN Global Compact that the subsidiaries are expected to follow in their sustainability work.